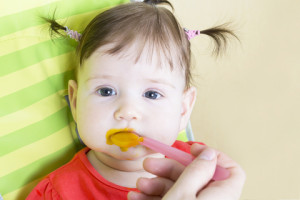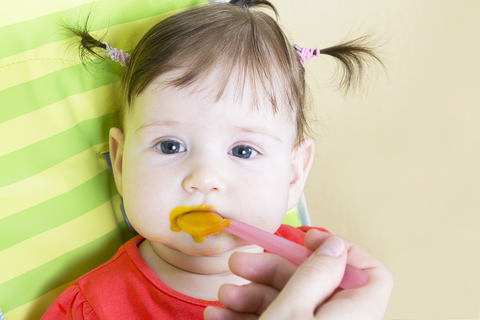 Ensuring your little one gets her daily intake of iron can be tricky. From birth to six months, your baby will use her own iron stores from when she was in the womb, and from your breast milk if you are breastfeeding or from infant formula. After that, her iron stores will start to deplete, which means it is your job to ensure that her recommended iron and nutrient levels are restored daily to help with healthy growth and brain development. 
While you may still be breastfeeding or formula-feeding your bub – and it is recommended that you do so until at least 12 months of age, even if she moves onto solids – introducing fortified cereals plus lean red meat and poultry into her diet is a good way to counteract her lowering iron stores.
The Infant Feeding Guidelines 2013 recommends introducing solids, including lean red meat and poultry, from six months of age. At this point in an infant's growth cycle, she may become curious about new tastes and textures, and ready to explore beyond her milk diet. Look out for signs that introducing solids is right for your little one, including good head and neck control and the ability to sit upright when supported in her high chair, reaching out and showing an interest in food and opening her mouth when offered food on a spoon.
Lean meat and poultry can be added to her everyday meals without causing too much havoc in the kitchen. Try cooking a small piece of steak or chicken – making sure it is thoroughly cooked for food safety – as you prepare your own dinner time meal, and then blend into a puree with cooking water or boiled sweet potato or pumpkin. Water it down to a consistency that you and bub will be comfortable with, and watch her enjoy every spoonful knowing she's getting the iron she needs.