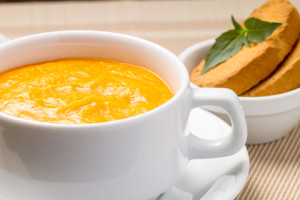 As winter sets in, there's nothing better than heading home on a dreary night to a hearty soup to warm you up. It's super simple to make homemade soup, too, and even easier to store in a pouch or freezer tray as a make-ahead meal for the whole family, babies included. Here are four easy and freezer-friendly soups to keep everyone happy all winter long.
Pumpkin
Pumpkin soup is an all-time classic. Think sweet pumpkin, potatoes, onions and roasted garlic in a steaming bowl on the dinner table. Best of all, simple bub-friendly recipes can take just 30 minutes from beginning to belly. Leftovers can be stored in cube trays for your little one's first solids, or in pouches in single-serve portions.  Pumpkin soup can be heated in the microwave straight from the freezer.  For the adults, enjoy it with a crusty loaf, and for the little ones, by itself or with a fresh slice of wholemeal bread.
Potato and leek
Making homemade potato and leek soup is so simple because there are very few ingredients. Saute the leek with a little garlic, then blend with tender boiled potato. Finish with cream and chives. If you want to add extra flavour, cook diced bacon in a pan until crispy, and blend into the soup at the end (only add to your serve, not bub's, as it might not appeal to his sensitive tastebuds). To enjoy later on, simply let it cool for 30 minutes and pour into freezer-friendly pouches in serving sizes of your choice. It'll keep for at least four months and can be reheated in the microwave when needed.
Chicken noodle
There's no better way to fight off the onset of a cold than with a big bowl of chicken noodle soup. Most recipes contain carrot and celery as basics, but you may want to add other vegetables according to taste (try potato ad other root vegies, peas and corn, or onion). Chicken noodle soup will last up to four days in the fridge, but more than four months in an airtight pouch in the freezer. And when your baby is ready to explore new flavours, adding a hint of ginger will work wonders to battle any looming sneezes and sniffles.
Tomato
The best thing about a homemade tomato soup is you can make it exactly how you like it. You can pulse together the ingredients at the end, so you can serve it chunky, smooth, thick or thin – it's entirely up to you! If you'd like to keep it simple for your little one, use only the basic ingredients – ripe tomatoes, onions, garlic and salt-reduced stock – especially if they aren't used to herbs and spices. Tomato soup can be stored in the freezer for up to six months if poured into an airtight pouch or container.