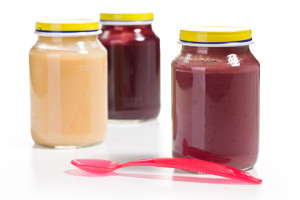 How closely do you look at the labels on pre-packaged baby food – and do you know what you're looking for, really? Here's the lowdown on what to make of those baby food labels.
Ingredients list
Be sure to check what's in your baby's food by scoping out the list of ingredients. These are ordered according to the quantity in each packet – so the main ingredient comes first (perhaps followed by a percentage to indicate how much of the product includes that item), followed by the second-most used ingredient and so on.
Hidden extras
Did you know that if an ingredient makes up less than 5% of the product, it is not required to be listed on the nutrition panel? This does not apply to additives or allergens – these must be listed in all cases – but other ingredients can slip under the radar if they are added in small enough amounts.
"100% natural" and "free from artificial preservatives and additives"
Generally, the less "numbers" (preservatives and additives) you can see in the ingredients list, the better, but remember that not all numbered ingredients are necessarily unnatural – both natural and artificial additives are internationally coded. A brand can legitimately claim its product contains "no artificial colours, flavours or preservatives" if it only uses natural alternatives.
Buying for your baby's age and stage
Most baby food is labelled with the recommended age and stage of development applicable to that food – smooth purees and simple foods to start, followed by mashes and chunkier, more complex mixes for older bubs. While this can be a good place to start when deciding when to move your baby from thin and silky purees to meatier alternatives, your baby is your best guide and always take his cues to decide when he's ready to graduate to more textured foods.
Homemade versus ready-made
If you want to take the guesswork out of what is (or isn't) in your baby's food, the best way is to make it yourself at home. You'll only need fresh produce, plus a little water for poaching and extra milk or water to thin the puree out to the desired consistency. And your methods of preservation? A few ice cube trays and a working freezer!